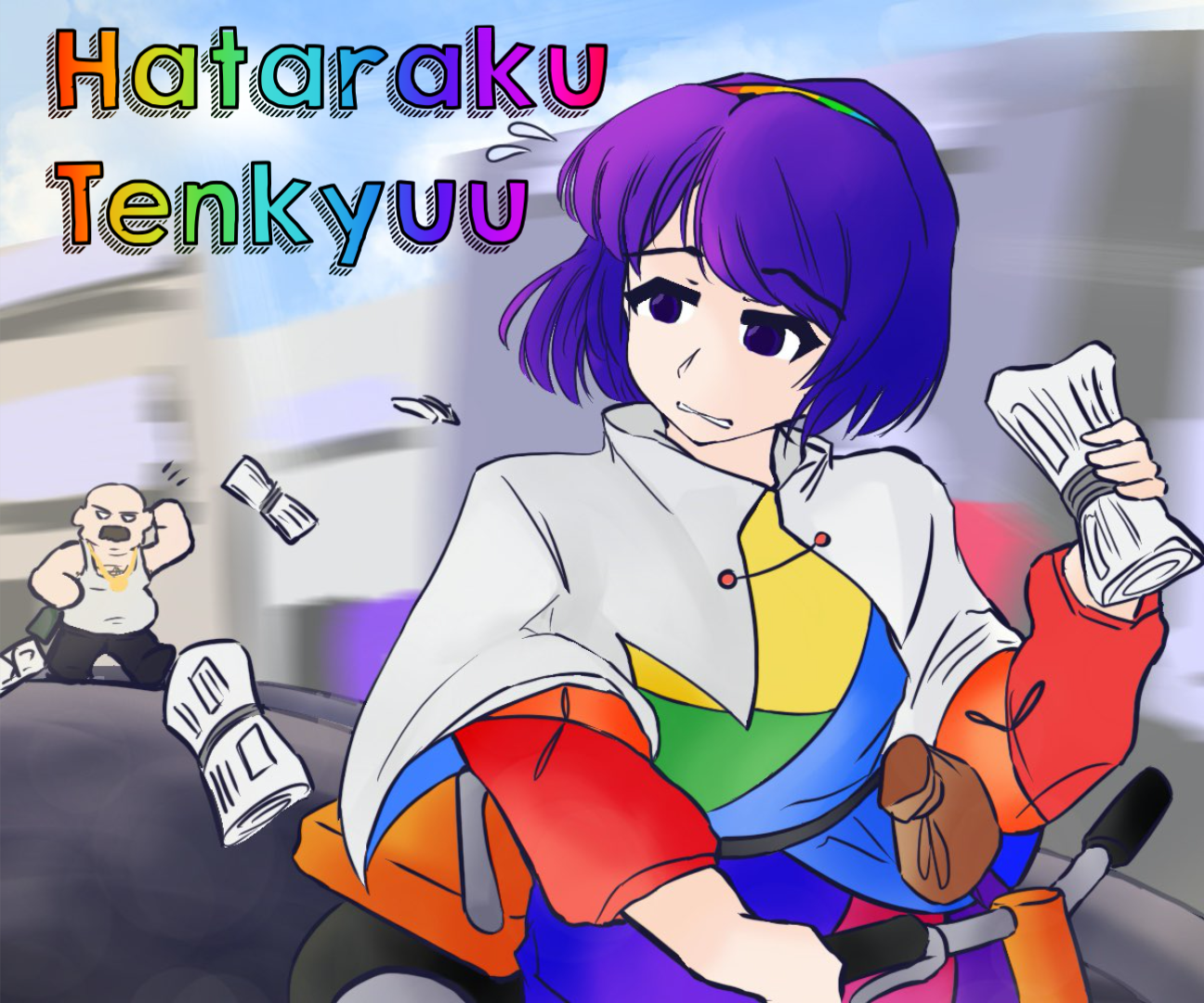 Hataraku Tenkyuu
A downloadable game for Windows
Hataraku Tenkyuu
Created by Kronington, Nekon, Stat, Robolet, and Kenji.

English:
chimata throw newspaper into mailbox to earn money. Remember to pay the rent. Please download the file below.
Controls:
Player movement, WASD
Firing Projectile

Aim, Newspaper will move toward the mouse
Charge, Hold down left click
Fire, Release left click, the longer the faster

Interacting with environment, "E"
Items:
Bicycle
Makes the player move faster when riding

Press 'E' to get on, 'E' to get off
Coffee
Temporarily makes player faster
| | | | | |
| --- | --- | --- | --- | --- |
| Store | Bicycle | Vending Machine | Newspaper | Mailbox |
| | | | | |
Credits:
Kronington, Coordinator, Composer, graphic design and story telling.
Artists

Nekon, Single sprite, tile map designer
Stat, Sprite sheet for Chimata, cover art designer

Programmers

Roboolet, Lead programmer
Kenji, Programmer

Translators

Kronington, Kenji. English to Japanese
And ZUN, for making the Touhou Project
日本語
千亦は新聞をメールボックスに投げる。そうしたらお金 もらえる。レントを払ることを忘れないでね。下にあるファイルをダウンロードして下さい.
コントロール:
動き, WASD
新聞を投げるため

エイム,  新聞はマウスの方に行けます
チャージ, 左マウスを押す
投げる,  左マウスをリリース, 長く押すと早くなる

インタラクト, 'E'
もの:
クレジット:
Kronington, リーダー, コンポーザー, グラフィックデザイン と筆者.
画家

Nekon, シングルスプライト, タイルマップデザイナー
Stat, 千亦`のスプライトシート, カバーアートデザイナー

プログラマー

Roboolet, プログラマー
Kenji, プログラマー

翻訳家

Kronington, Kenji. 英語から日本語に